In our last blog, we highlighted presidents who wore glasses not just throughout their time in office but also throughout their lives. But that pales in comparison when you look at all the influential and important women throughout history who wore glasses. Just in time for International Women's Day, we want to present to you some of the world's most historic bespectacled women.
But first, a history lesson: International Women's Day was first recognized as National Woman's Day on February 28, 1909. It started as a vocal, active campaign against oppression and inequality.
By 1911, the day evolved to encompass the world, being recognized as International Women's Day. That year, it was honored in Austria, Denmark, Germany, and Switzerland on March 19. Then, in 1913, the date was changed to where it currently resides: March 8.
For over a century, women have fought and continue to fight for equal rights in life. And while this blog only talks about a few, there are billions of women throughout history and today that deserve recognition and equality.
Eleanor Roosevelt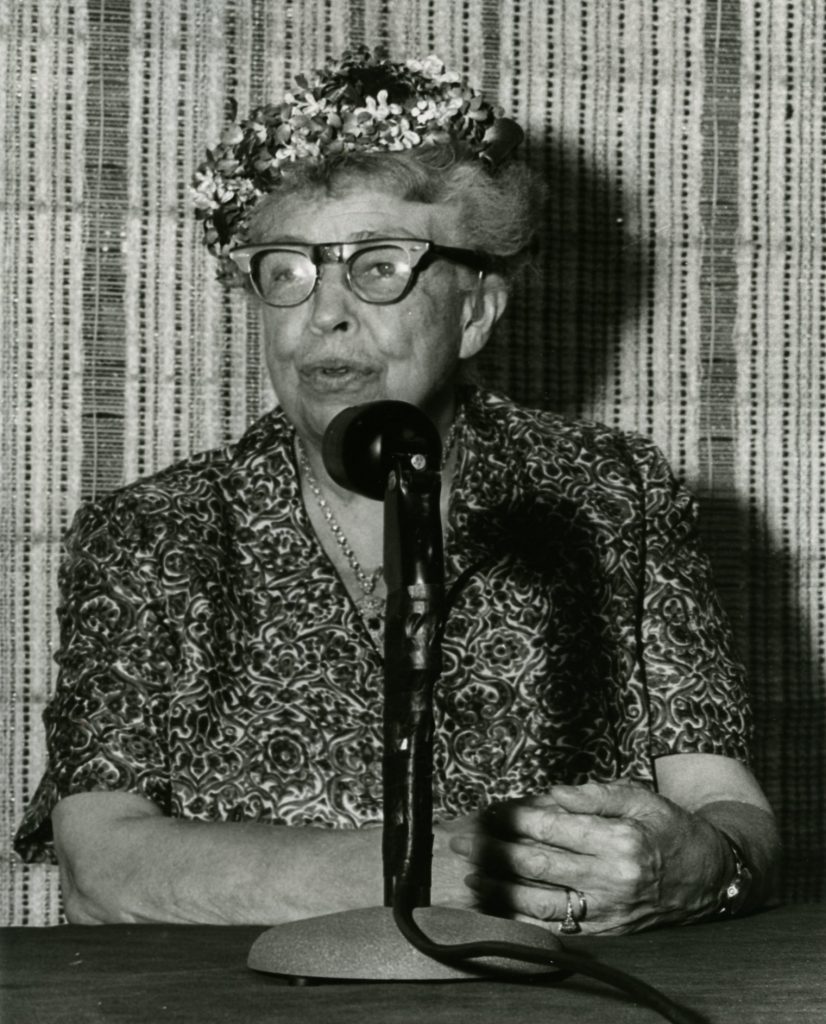 Image from AAUW
Aside from being the First Lady to President Franklin D. Roosevelt, Eleanor made a name for herself as an activist, diplomat, and political figure. During her time as First Lady, she was (at the time) controversial for her progressive stance on civil rights and advocated for women in the workforce. Even after her time as First Lady, she played a vital role in the United States joining the UN (and became the nation's first delegate).
In her later years, Eleanor would often be seen sporting very 1950s cat-eye frames, most notable for their two-toned coloring. Other times, she would wear thick, shell-framed glasses.
Audrey Hepburn
Image from Oliver Goldsmith
One of film's most beloved leading ladies, Audrey Hepburn was more than just a pretty face. From the mid-50s to her death, Audrey worked with UNICEF on a considerable number of projects and initiatives. In the late 80s and early 90s, she traveled all over the world to countries like Ethiopia, Turkey, Venezuela, Ecuador, Sudan, and many more — all to help give humanitarian aid and assistance from UNICEF to civilians.
Her work with UNICEF saw Audrey appointed as a Goodwill Ambassador in 1989 and recognized with the Presidential Medal of Freedom in 1992.
Though she never wore glasses for prescriptive purposes, Audrey Hepburn's iconic look in Breakfast At Tiffany's is thanks to a pair of Oliver Goldsmith's "Manhattan" sunglasses. These large, stylized sunglasses were worn by Hepburn throughout the film and remain part of her iconic style.
Oprah Winfrey
If we listed off the accomplishments of Oprah Winfrey, we'd run out of digital ink! There's no doubting Oprah's influence — from her 25-year run show, to her philanthropy work.
While her show started in 1986, by the mid-90s Oprah focused on taking daytime talk shows to a new level altogether. Rather than a traditional talk show format, Oprah paid more attention to self-improvement and mindfulness. The term "Oprahfication" was coined by The Wall Street Journal for her unique take on her show. Using public confession as a form of therapy allowed her to break down barriers against otherwise "taboo" topics that weren't talked about. When she launched her own network in 2008 (the Oprah Winfrey Network, or OWN for short), Oprah only grew her influence.
Oprah has earned monikers and titles like the "Queen of all media", "America's most powerful woman", and "the most influential woman in the world" because of her work both in and out of frame from the camera. The term "The Oprah Effect", for example, stems from how far public endorsement can go and highlights Oprah's reputation and public opinion. Meanwhile, her work as a philanthropist has been hard to match. By 2012, she donated $400 million to different educational charities and organizations. She's also donated $12 million to the Smithsonian's National Museum of African American History and Culture, and her own charity, the Oprah's Angel Network, raised $80 million over the course of its five year run (2005-2010).
Oprah is also well-known for her constantly stylish glasses. From chunky 70s frames to transparent frames to cat eye frames, metal wire frames, tortoiseshell, and so many more, Oprah has made every type of frame imaginable iconic.
Susan B. Anthony
Image from Wikipedia
Her very name is immediately recognizable as a central figure in American suffrage and women's equal rights movements. Susan B. Anthony began her efforts as early as the mid-1800s and paved the way for women's right to vote.
Even from an early age, Susan grew around activists and reformers who wanted to see more freedom and change in the country. By the time she was in her late 20s, Susan had begun a lifelong friendship with famous abolitionist Frederick Douglas and was already becoming an outspoken activist for women's rights and against slavery.
Soon after the Civil War, Susan helped form the National Woman Suffrage Association (later known as the National American Woman Suffrage Association or NAWSA). She became the prominent figure for a woman's right to vote. In 1872, Anthony and 14 other women were arrested for illegally voting in the Presidential election. While the other women were released, Anthony was tried for her voting. During the trial, she protested the nation's ignorance of the natural, civil, political, judicial rights of her and all women. While she never got the chance to see it while alive, women would be given the right to vote 48 years after her death.
While so much is known about her life as an activist, not much is known about her eyesight. We do know she wore glasses to assist with a lazy eye. Anthony's lazy eye is also why she is usually only seen photographed on her left side, as you see above.
Sonia Sotomayor
Image from Wikipedia
Sonia Sotomayor is America's first Hispanic and Latina member of the Supreme Court of the United States. But if that's not impressive enough, just wait. Coming from humble beginnings in The Bronx in New York City, Sotomayor got into Princeton on a full scholarship, graduated summa cum laude in History, and went on to study law at Yale. After school, her reputation as a lawyer took off as she started working with the New York County District Attorney office.
By the early 90s, Sonia was nominated for and became a federal district judge for the U.S. District Court for the Southern District of New York. Taking the judgeship, she became the youngest judge in the Southern District (at 38 years old), the first Hispanic federal judge in the state of New York, and the first Puerto Rican to serve as a U.S. federal court judge. By the end of the decade, she was confirmed a seat in the U.S. Court of Appeals for the Second Circuit. In 2009, Sonia was nominated by President Obama and later sworn in for a seat on the US Supreme Court, where she now resides.
Justice Sotomayor can often be seen switching between wearing dark, classic frames and some beautiful, geometric tortoiseshell frames.
Women, glasses, and the future
International Women's Day is a day to recognize and celebrate women for everything they are and everything they do. There are so many more bespectacled women throughout history that we could include: from Hedy Lamarr — actress and inventor credited for the technology that lead to Bluetooth and Wi-Fi, to Ada Lovelace — a mathematician in the 1800s who is believed to have created the world's first computer program, as well as such women as Marie Curie, Rosa Parks, Amelia Earhart, and Ruth Bader Ginsberg, to name a few. All of these historical women, along with the billions of present-day women, are celebrated today for their contributions to make this world better.