We are huge believers in sustainability and we love to share what initiatives we take part in to help make the world a greener place. There are also TONS of sustainable stuff out there in the optometry industry aside from what you read about today. If you're interested in being more eco-friendly, this is the perfect place to start.
Eco by MODO
MODO is one of our biggest suppliers of eyewear. They're fashionable, they're affordable, they're cutting edge, and they have frames for literally everyone. Seriously. Whether you want some thick, Buddy Holly style frames or something sleek and modern, MODO makes it.
But it's their ECO line that is really something special. ECO frames take the MODO ethos of having a style for everybody and gives it a sustainable twist. Every pair of ECO frames is made from 95% recycled metal or bio-based materials. According to their site, "That's a serious saving on natural resources. Our bio based frames are crafted using castor seed oil, making them lightweight, comfortable and sustainable."
In addition to saving resources, MODO's ECO line touts a sustainable mission: for every pair of ECO frames sold, MODO plants a tree. Which means you could join over 2 million people and help reforestation efforts.
Costa Del Mar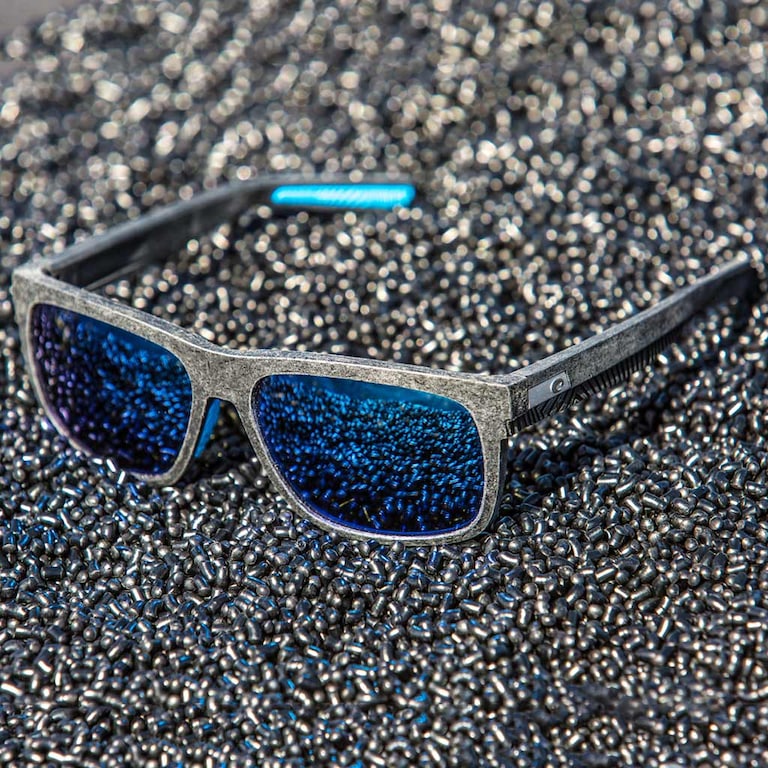 Imagine Patagonia, but for your eyes. That's Costa Del Mar. From the very heart of the company, there is a pledge to be as sustainable and ethical as possible, with every collection of products.
Take their The Untangled Collection, for example. This collection of sunglasses is made from 100% discarded fishing nets! Every year, an estimated 640,000 tons of fishing nets are left behind in and pollute our oceans. Teaming up with Bureo, a B-Corp that recycles the fishing nets down to plastic pellets, Costa creates an entire line of iconic sunglasses from the recycled pellets.
Another initiative Costa Del Mar takes on is their Kick Plastic movement. In partnership with other companies like Abaco Lodge, Worldcast, and Casa Vieja, Costa has recycled 44,000 pounds of eyewear lenses, eliminated three million single-use plastics through their guide program, and cleaned up 180,600 pounds of trash from beaches. Their Bio-Resin Raw Material Process is a part of their Kick Plastic movement. Like ECO, Costa uses oil from caster seed in all of their sunglasses.
Bausch and Lomb
Think frame makers are the only ones to believe in sustainable missions? Meet Bausch and Lomb. Not only are they one of the world's biggest contact lens manufacturers, but they also spearhead the One by One Recycling Program.
Contact lenses are known as a microplastic. What this means is that their small size prevents them from being recycled by standard means and often end up in landfills and waterways. However, this doesn't mean they can't be recycled. Bausch and Lomb's program asks contact wearers to:
Hold onto their used blister packs, top foils, and lenses
Drop off any amount of their used lens items at any participating locations (hint: like us 😉)
By taking part, Bausch and Lomb are able to collect these recyclable materials and properly separates them to recycle and upcycle the plastics into things like playground sets and park benches.
So how do we take part?
Why let the big companies have all the fun?
"I can truly say at Downtown Vision, we do everything possible to ensure we are recycling everything we can," says Josh Wasson, office and practice manager.
Every pair frames we receive from companies comes with a cardboard sleeve attached to the inside of a plastic bag. As you can imagine, we go through thousands of frames and the amount of cardboard and plastic really stacks up. However, we make sure we recycle these materials from each and every one of those frames.
In addition to this, we take part in Baush and Lomb's recycling program and welcome anyone to drop off their used contact lenses and blister packs with us. We actually just recently had one customer come in with a bag of nearly 1,000 blister packs! You know who you are, and we really appreciate you.
Sustainability is at our core. It really is a vital part of our culture as a practice and a business. The Biggest Little City has made strides in the past decade to be more eco-friendly and we always support measures to keep the green conversation going.
We invite all our patients and customers to come in if they're interested in recycling their old contacts or to know more about the programs we take part in!